Travelogue: Jim Corbett National Park, March 2018
Jim Corbett National Park is a first Tiger Reserve and oldest park in the nation. Arranged at lower regions of Himalayas in Uttarakhand, it is a home to widely varied flora and fauna.
DHIKALA, a wonderland arranged in center of Jim Corbett National Park, India. It is a most looked for place to the nature lovers who are looking for a tryst with nature.
To visit Dhikala, the most ideal approach to reach from Delhi is either by Road or by Train.
We recently planned our trip for 6 safaris in the park on 16, 17 and 18 March 2018. Since these were back 2 back safaris so we decided not to drive because of the ongoing road construction from Delhi to Hapur as well as to avoid the fatigue and to conserve our energy for safaris(those who wanted to drive by road can travel through NH24 from Delhi - Hapur - Gajraula - Moradabad - Kashipur - Ramnagar).
Remember that at the end of Moradabad Bypass you need to take left exit from the bypass towards Moradabad city for Kashipur. Roads are good and in moderate traffic conditions you can reach Ramnagar within 5 Hours from Delhi.
We booked Ranikhet Express (Train No. 15013) from Old Delhi to Ramnagar. We were a group of 4 in which 2 of members boarded train from Delhi at 22:00 PM and 2 of us boarded from Ghaziabad at 23:00 PM. Please make a note that Ramnagar coaches detach from this train at Ramnagar and rest of train moves further to Kathgodam so these coaches are usually either beside the Engine or at the last. Do enquire the coach position, though most of the time they are at last. We were almost standing at the mid and when we came to know that coaches are at end, then we had to run to get to the coaches as train stopping duration us 2 mins only (however, it halted for 10 mins on that particular day so all the running got wasted 😊).
We achieved Ramnagar at 04:50 AM. It was a delightful little station with only 5-6 individuals at morning and a small tea stall. It was mid of March, yet morning was cool. We foresee the weather and were arranged all around so we rapidly got ourselves secured with jackets/sweaters and had some hot tea and were prepared for the excite.
Our safari driver was Nizam, an accomplished driver with a plethora of information about the untamed life and he was sitting tight at station for our entry. We boarded the safari and began for the Dhangadhi entryway which is approx. 18 Km. from Ramnagar. It was extremely chilly while at the same time going in open vehicle in backwoods territory was adding to cold, however,  we ignored the cold and enjoyed the aroma of wilderness all over the place and appreciated the odour. Extremely, taking such a fragrant and outside air profound into the lungs was a treat for lungs which were experiencing contamination in Delhi.
We achieved the Dhangadhi entryway at 6:00 PM seeing the popular sacred GirjiaDevi temple en route. Nizam went to finish the conventions, inside the workplace, situated at Gate with IDs of every one of us meanwhile we arranged our lenses, cameras, settings prepared for every conceivable shot with zero reaction times.
At Jim Corbett, one can book a half day/full day safari or can book an accommodation @
http://www.corbettonline.uk.gov.in
. The bookings open before 45 days of date of booking at 10:00 AM. You need to be prompt and be ready with all your details and should book asap the booking opens. An accommodation booking gives you the benefit of automatically getting a safari gypsy permit and no separate fees is for entry/safari.
The important point to consider is that only gypsies permitted by forest department can enter and no personal vehicles are allowed. We couldn't see any arrangement for the parking by government to facilitate the people who are coming to Corbett by their vehicle and have booked accommodation inside. You should discuss this with your safari provider. Usually, these guys arrange parking at any of Hotel/Resort spread across the gate of the park. This is a workaround for parking, however I still wonder why Government hadn't done any arrangement for parking so that a tourist with booking inside the park can park their vehicles easily.
As you proceed onward from the entryway, a tight street drives you and scene begin transforming into a paradise. On the off chance that you are a nature lover then without a doubt you will fall in the affection for the scene which is ceaselessly evolving. Thick trees, rough territory, waterway bed, fragrance, light streaks entering through thick trees sanitizes the body and soul.
Presently the experience starts, as we moved approx. 10 Km. inside suddenly Nazim squeezed brake paddle with full ability and climbed over Gypsy. He instructed us to focus as there were calls from avians for the nearness of Tiger. We likewise began seeking and abruptly the other Gypsy driver detected a Leopard sitting on a tree. Leopard was fretful as tiger was at base of a tree and thundering at Leopard for trespassing his domain (As per Jungle Constitution, trespassers who are caught are often executed, and it's a law from ages with no amendment). Leopard was endeavouring to cover up and in that procedure, was changing his positions making workable for us to shoot the diverse postures. Thereafter, we advance toward Dhikala and experienced a Tuskar who was taking mud bath. Our first Safari had given us much fervour to prepare for whatever is left of safaris in next 3 days.
At long last at 11:00 AM we achieved Dhikala rest house. It's a rest house at the mid of wilderness with mountains around it. Ramganga is streaming at one side and rest of territory have prairies where there are odds of a good sighting amid early mornings. In the wake of completing the customs, we were informed that we will get the room by 12:00 PM so we chose to eat and moved towards a little canteen. It was a small government canteen with an alternative of Tea and Maggie just so we chose to sustain ourselves with same. Next 30mins we spent talking about different natural life choices we may spot, distinctive shots and camera settings and so on. We at long last got the room at 12:00 and had a snappy shower and chose to sleep.
I attempted to take a short rest, however couldn't as recollections were coming into my brain. I got up and went to the place close canteen and sat there. I came to Dhikala for a stay when I was only 12 or 13 years. I accompanied my aunt(mausi) and my uncle (whom I used to call Daddy and my dad as Papa). I can see a tight way going downwards Ramganga from the visitor house. Presently it was spiked with electric wires to stop passage of wild creatures yet in those days it was all open. At 5:00 AM at morning I and Daddy got up and went down took after the way till Ramganga.
My maternal side families were having an awesome bond, and I was the eldest boy in my maternal side and the most lucky one to get the affection, mindful, lessons and favours of 3 people i.e. Papa, Daddy (Mausaji) and Mama. I had a solid association with each of the 3. The voyager and picture taker in me are acquired from Daddy as he taught me the affection for nature and he was the individual who gave the camera in my grasp when I was insignificant 8-9 years and from that point I was a legitimate picture taker of my family. His untimely demise was the greatest misfortune, I at any point had yet at the same time after such huge numbers of years I treasure those recollections as new as it was yesterday. My eyes were on the trail, and the psyche was opening layers of every memory when abruptly got a call from my companion for lunch. Oops… ..I greatly apologize to narrate personal side of no enthusiasm to you. Since, it's a travelogue, so I ought to confine myself to the subtle elements of outing as it were. We should proceed onward by leaving the story of my soul association here as it were.
Dhikala has 2 canteens and amid lunch/supper time little canteen stops to work. The main alternative at the canteen is to have a Buffet @300 INR/individual. There is no alternative of A-La-Carte or requesting a little sustenance for yourself. It is possible that you have enough craving or not you need to shell 300INR for joining the buffet which as I would see it was wrong and the government should expand the alternatives.
Our second Safari began and we took sambhar road. When we hit Sambhar Road, we experienced a mother elephant going downhill towards Ramganga. I got my Nikon D5 and 200-500mm focal lens in action. We continued clicking till they crossed the Ramganga and moved in the Grass lands. Luckily in the middle, I altered my opinion and changed to Nikon 70-200 and got some great shots of the elephant with beauty of landscape.
We additionally advanced and meander through Khinnauli, Palm territory, Ramsingh Road and sambhar road. Till now destiny was not on our side, and we didn't spot anything other than yes, we appreciated wandering in the wilderness. Meandering in Jim Corbett is a superb ordeal and we delighted in every single minute in the wilderness. While returning towards Dhikala we remained on Ram Singh Road for 2 mins as different gypsies were additionally remaining there and all of a sudden, we detected a tiger crossing the street. Truly, we were sufficiently fortunate to reach at the opportune place at ideal time and we expressed gratitude toward GOD for giving HIS gifts for this sighting.
Day 2 morning safari began at 6:00 AM at morning. It was a very cold morning, and the pullover wasn't helping much. The individuals who intend to go Corbett till April must convey a jacket with them as wilderness is extremely frosty in morning. We chose to go to the zone over the Ramganga and inverse to Dhikala. It's called as an area of Paarwali (the name is given as zone is over the stream.). In transit we found a beautiful brief wooden scaffold to cross Ramganga. Dawn from this extension was entrancing and one can stop in the mid of the scaffold to shoot brilliant dawn with its appearance in Ramganga stream. Our endeavours in paarwali zone didn't bring about locating and at 10:00AM we came back to the Dhikala Forest cabin for breakfast.
At evening, we chose to go towards Ramsingh street and swung inverse to Ramsingh road. The region appears as though it wasn't a typical way for the safari as trees were thick, leaves on the grounds were crisp and were uncrushed, no tyre imprints and it appears to be nobody utilized this street in recent days. Be that as it may, I observe this zone to be most excellent region of Corbett and the street of this zone joins "Thandi Sadak" close Dhikala Grasslands. When we achieved "Thandi Sadak", we experienced a crowd of elephants with all sizes. This gathering charged on us and postured for us and gave us the chance to have best elephant photos of the trek. Past thandi sadak the road drives us through prairies and finishes close to a zone where waterway was blocked and it was a magnificent view. I prescribe everybody to go to the place. You can reach by intersection Dhikala fields there. At long last, we returned regardless we had 45mins remaining for the safari so we chose to give a strive for Sambhar Road. When we came to sambhar road, we discovered all vehicles remaining there as somebody spotted tiger strolling with the waterway and coming toward Sambhar Road. We likewise paused and everybody was in hold up to get the impression yet tiger sat some place in the mid and didn't come and all need to come back to report back as safari time was getting over. It was a wonderful day for sure and all because of elephants we met at Thandi Sadak.
When we came back to FRH and amid supper we met a family who educated that they have detected a tigress in the Paarwali region in night safari and we felt pitiful. But that's the part of game.
Day 3, day at Corbett began for us with first endeavour towards paarwali, at that point palm region, sambhar road, Ramsingh Road yet we didn't locate anything aside from a few birds like a hovering kingfisher, 2 eagles in fight, a honey buzzard. We backpedalled to FRH, had a shower, looked at and sat tight for our exit at 14:00PM towards the Dhangarhi door. Till now, we have had a decent trek inside and out with Leopard, tiger and Elephant sightings anyway, we had a want of experiencing tiger head on.
Amid lunch we became more acquainted with that a senior citizen couple (Mrs. and Mr. Tapan, nature lovers who are continuously visiting Corbett once or twice in a year since 1990) located a tiger close Ramsingh Road territory moving towards the hill. We chose to remain in Ramsingh Road territory instead of attempting our fortunes all over. We were at palm zone and heard calls which affirmed that tiger is adjacent. Approx. after 45 mins all of a sudden, another safari team waved that a tiger crossed Ramsingh Road. We went till the deadlock yet couldn't spotted tiger however calls, growl of the tiger and a languor sitting on top was giving sign that tiger is simply close inside the bushes in the ravine. We situated ourselves at the deadlock and could obviously hear the growl of the tiger. Approx. 20 mins we saw some development in the shrubberies and comprehended the tiger is going to stroll in a profound territory inside ravine and we can have an impression. At that point abruptly wonder happened and full developed female tigress originated from inverse territory and stands in front of us. Our heart beat ceased as tigress was not really 8-10 feet from us and we were at the deadlock. The main path was before us and was obstructed by tigress. It was just her in her natural surroundings and us. We clicked for 20 seconds and when other safaris came thundering for getting glimpses, tigress hopped into hedges and dove deep with her cub who was growling inside the shrubs and calling his mom.
Once the episode was over we were looking each other with surprise, excitement, happiness, achievement, a bit fear and lot to speak with no words.
It's time to exit from Corbett and we were returning with the feeling that we are returning from Mount Everest peak. We left Ramnagar through Ranikhet express leaving ourselves at Dhikala.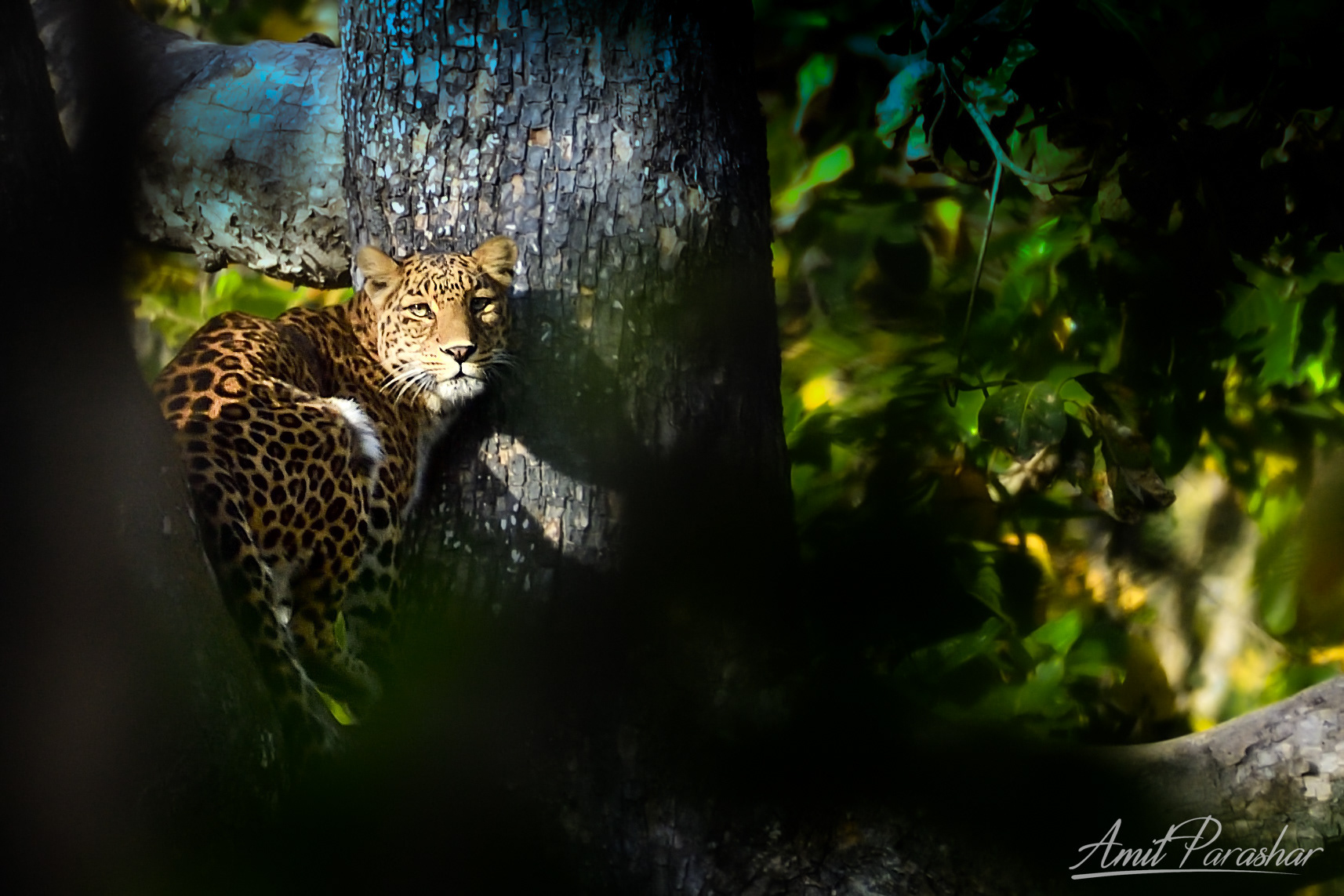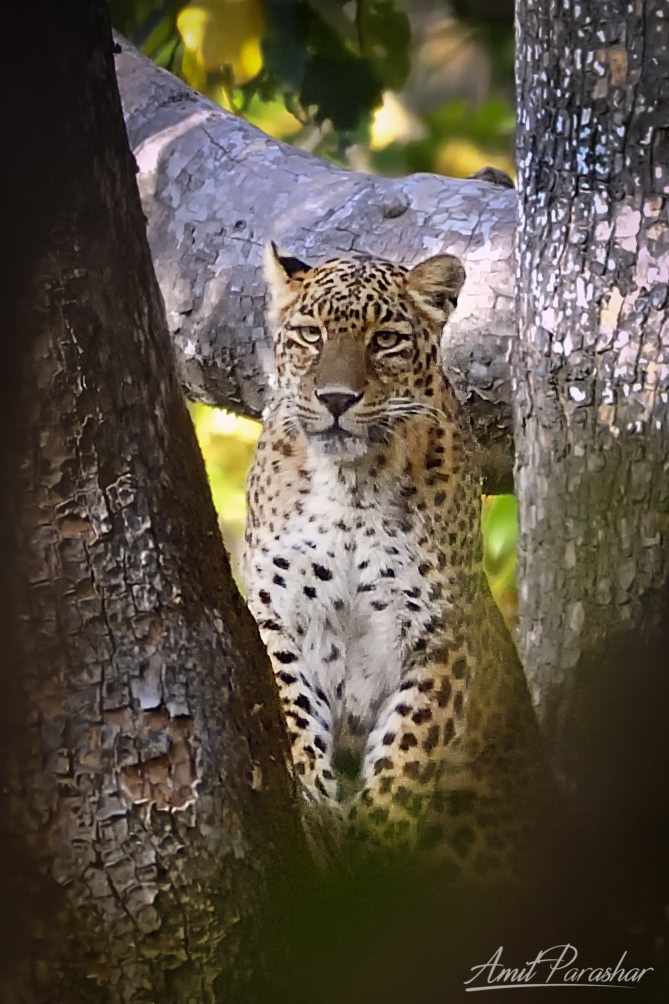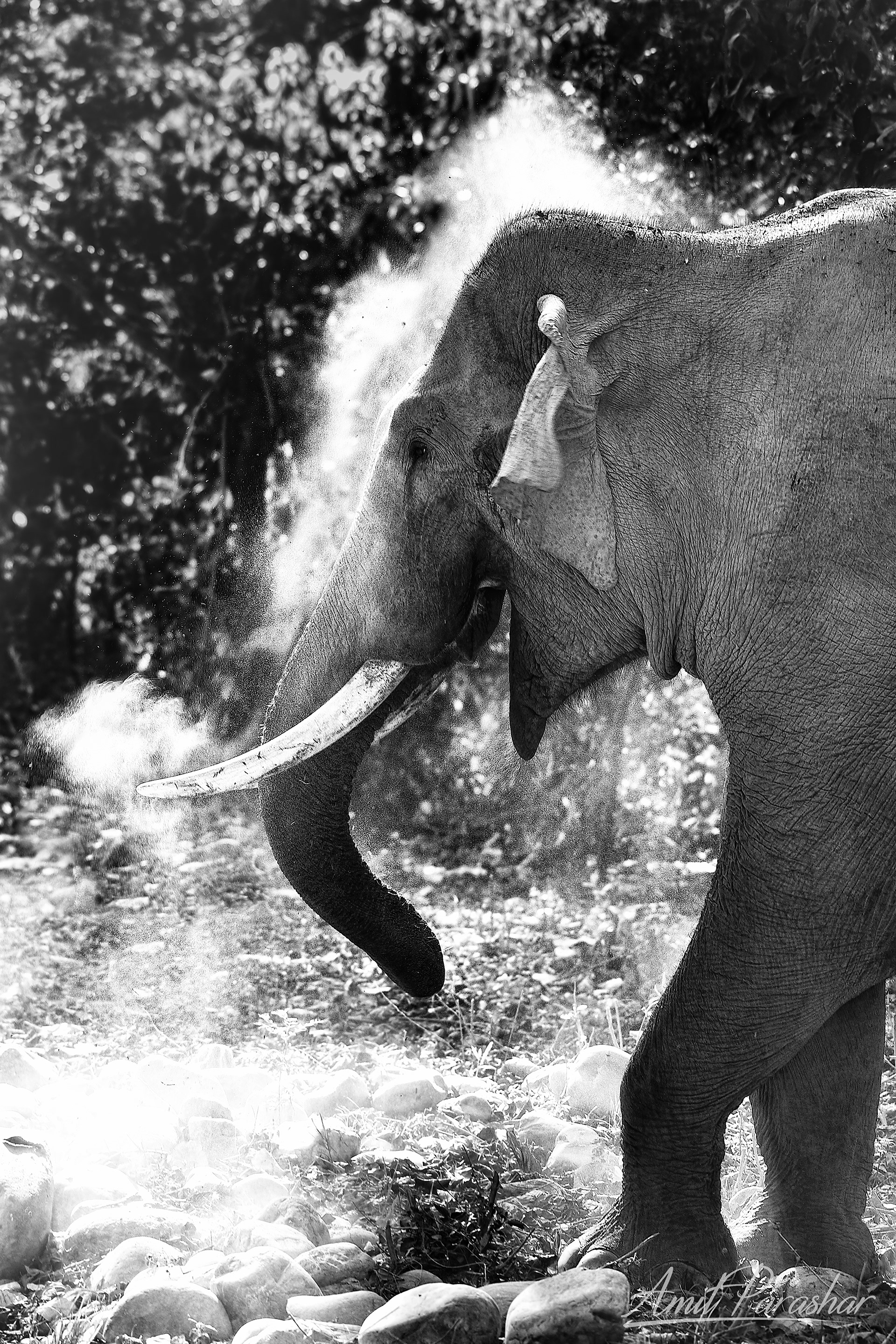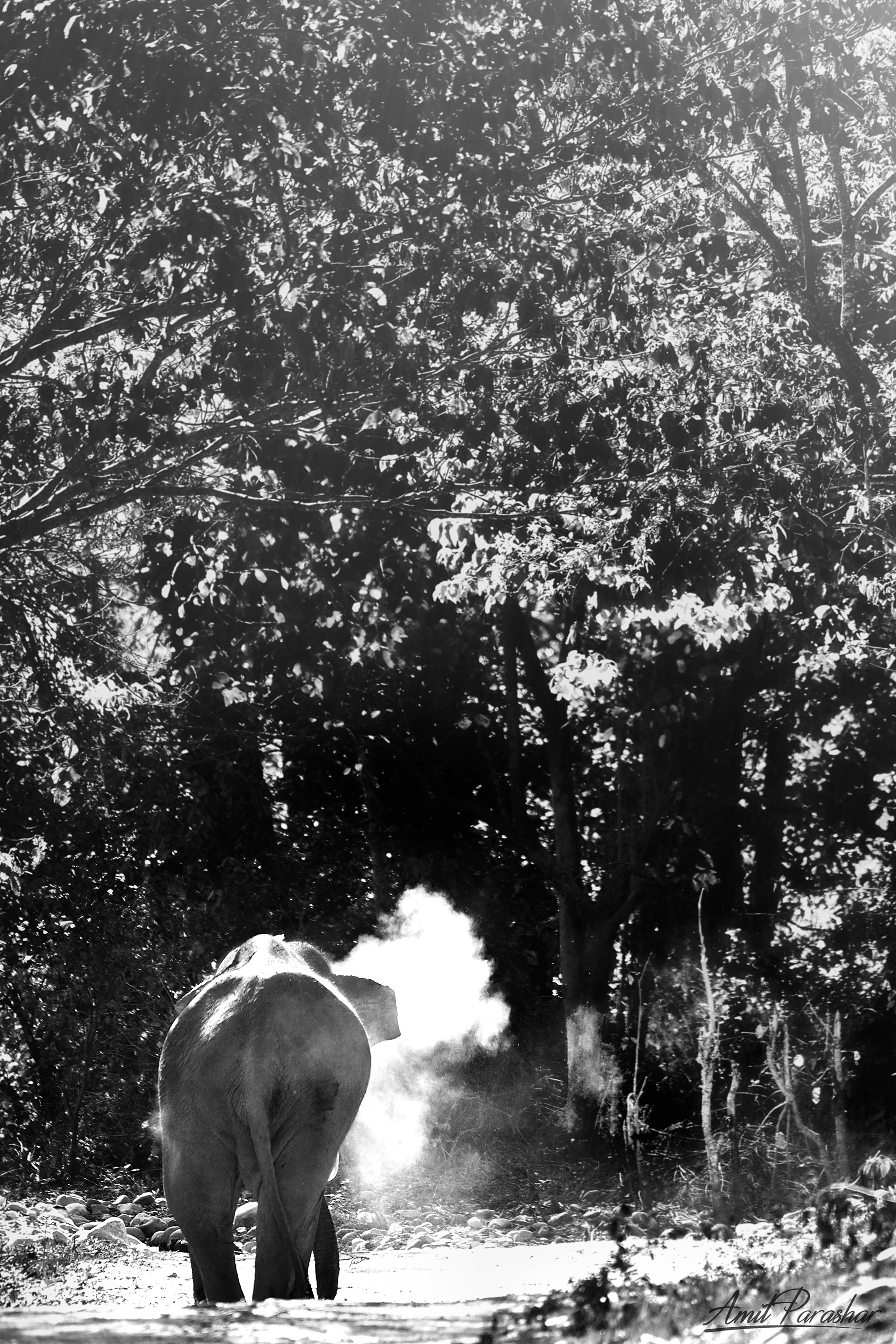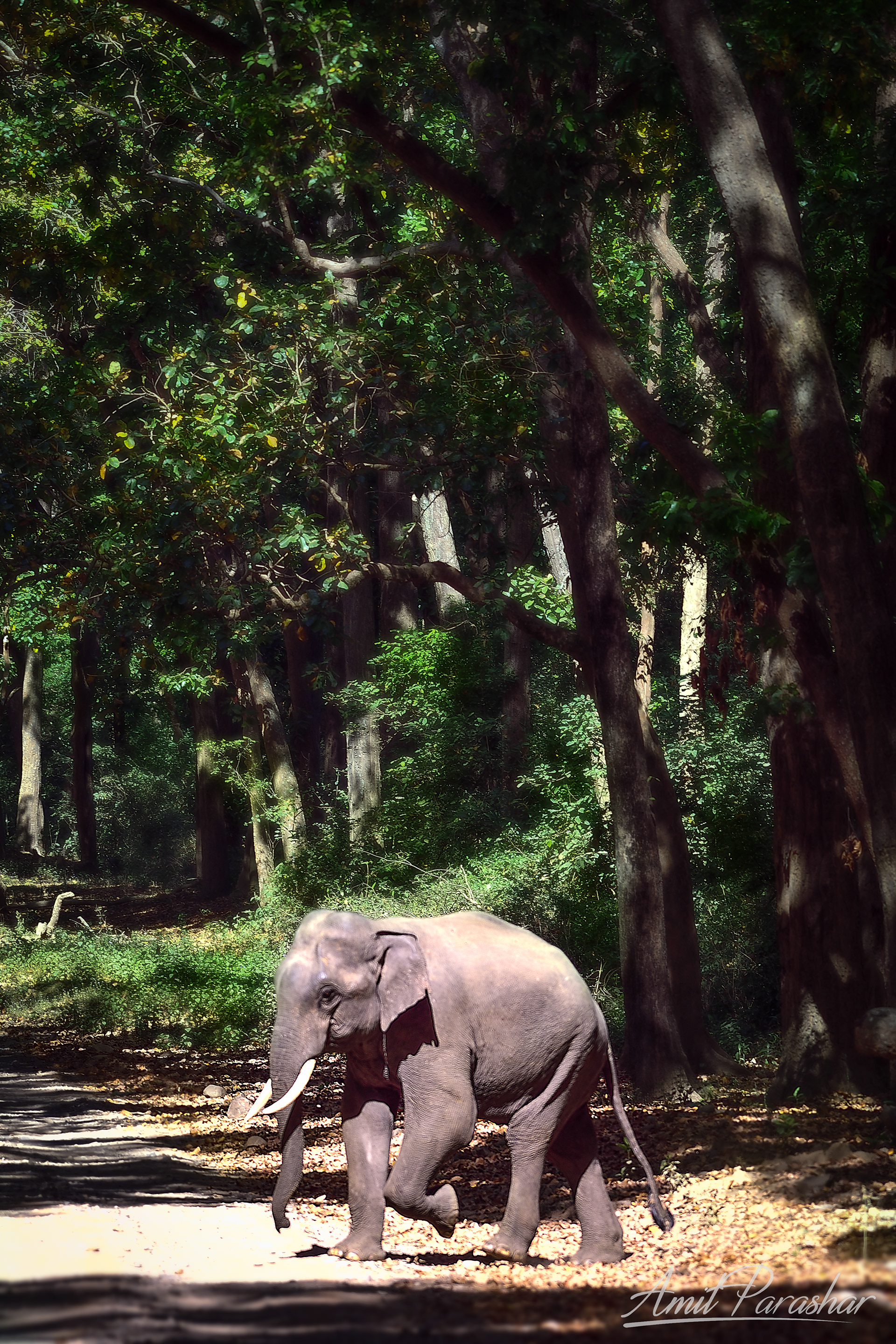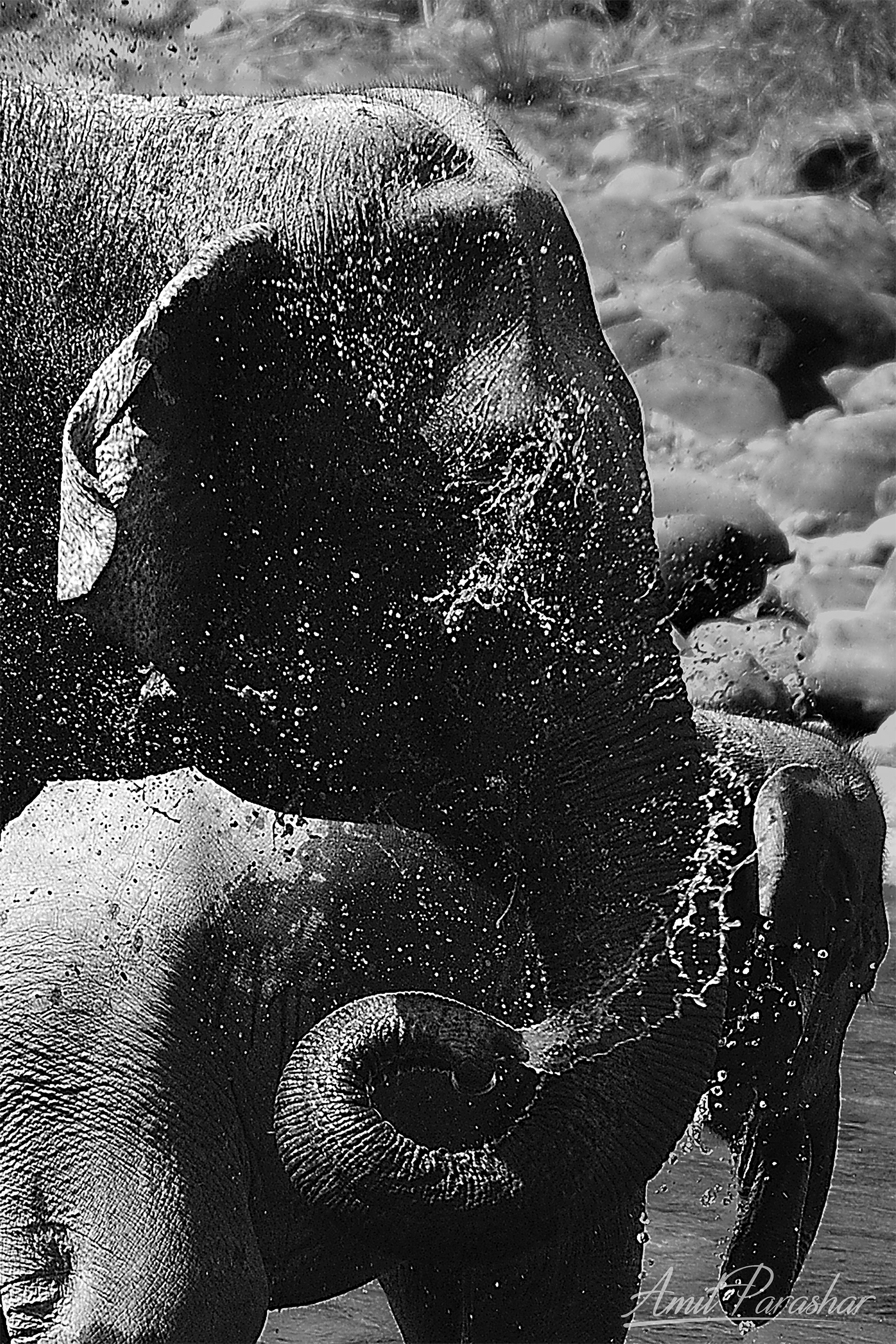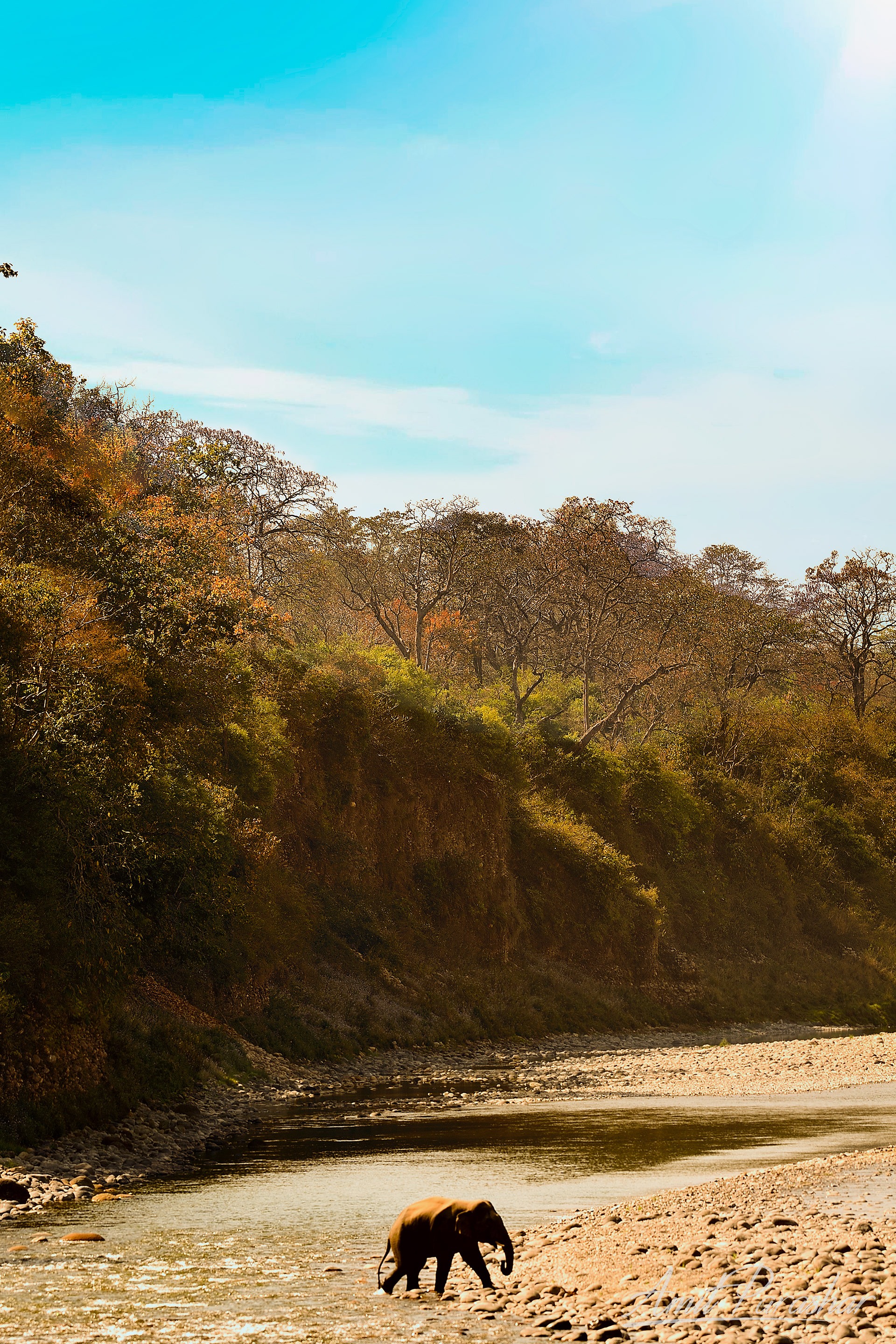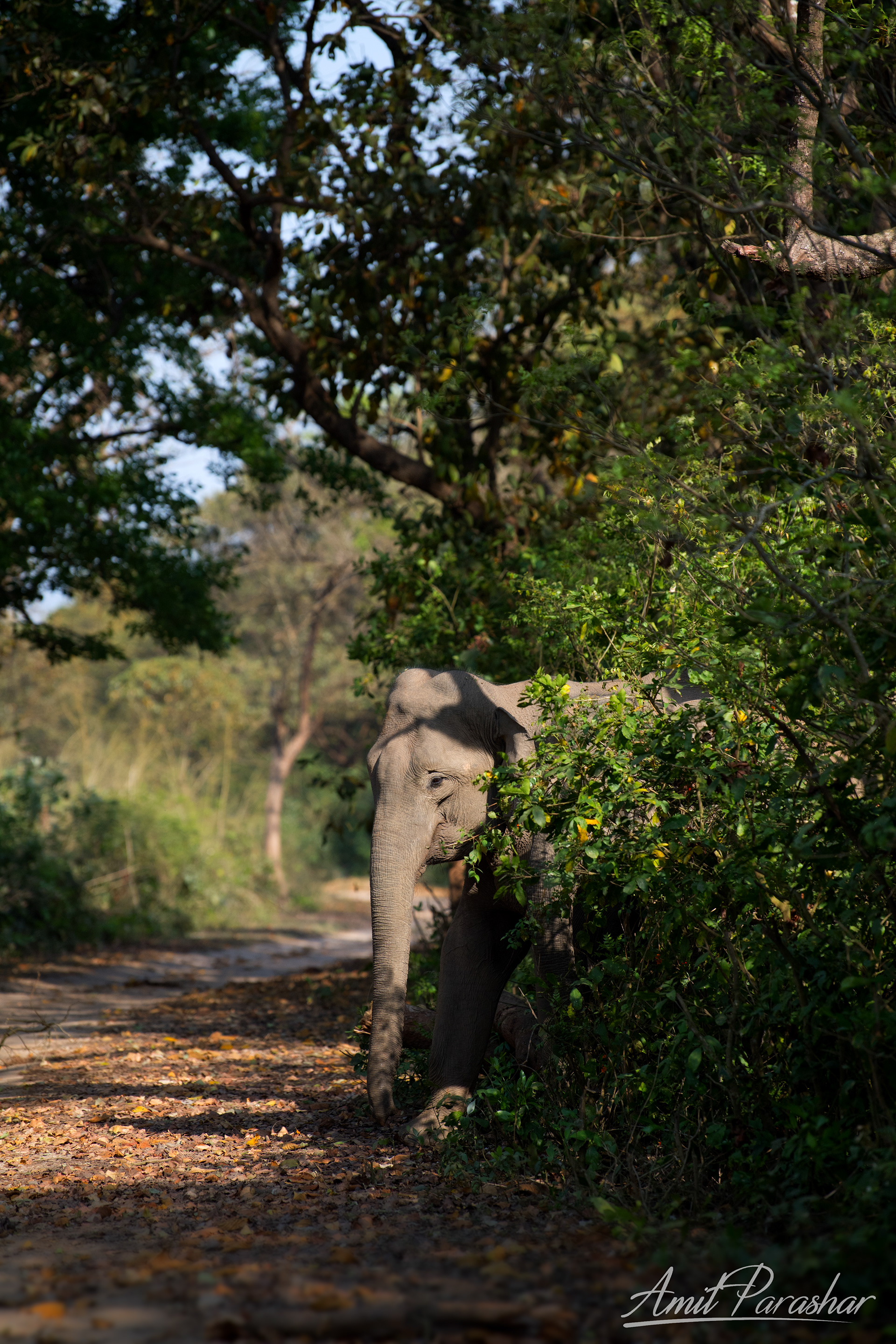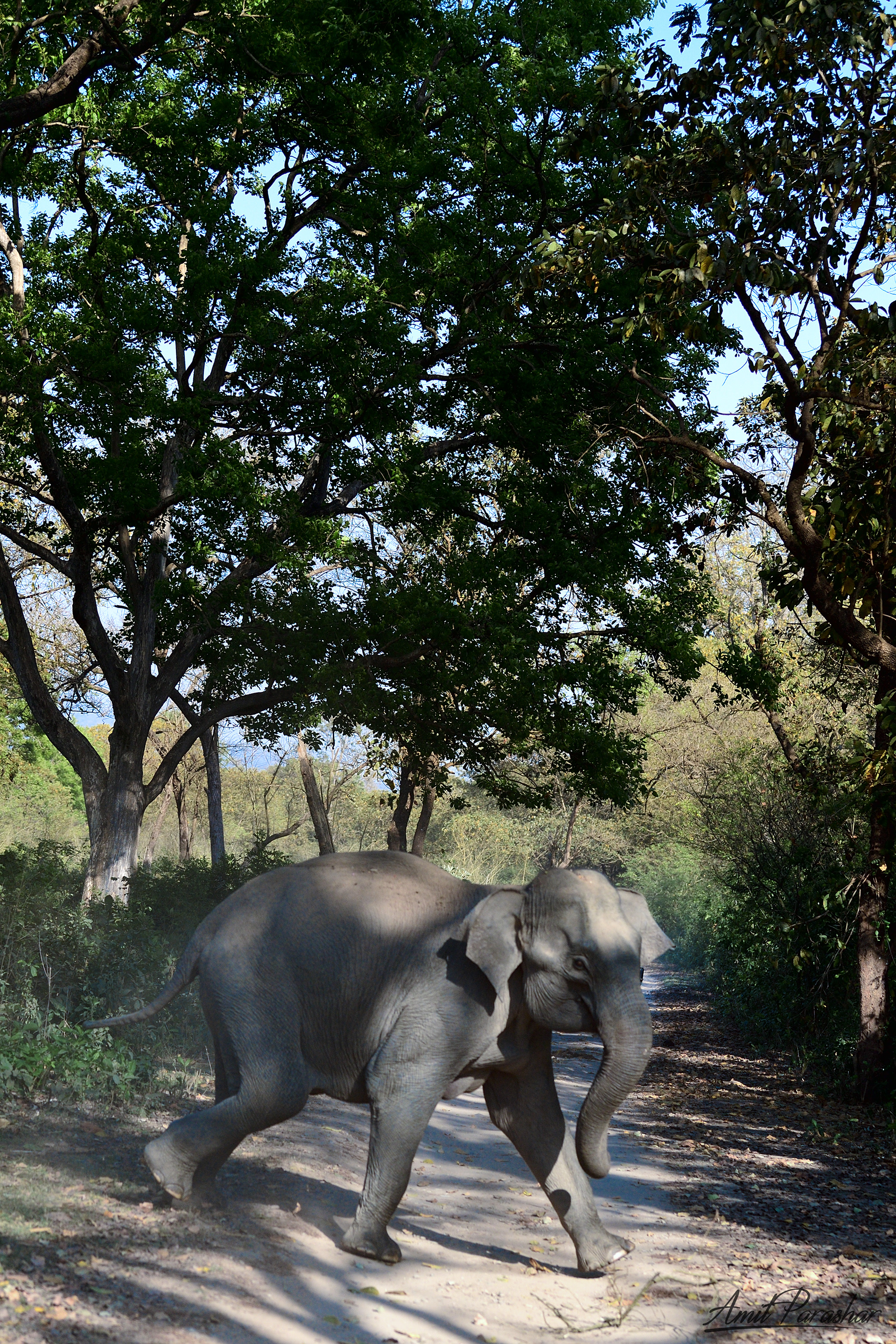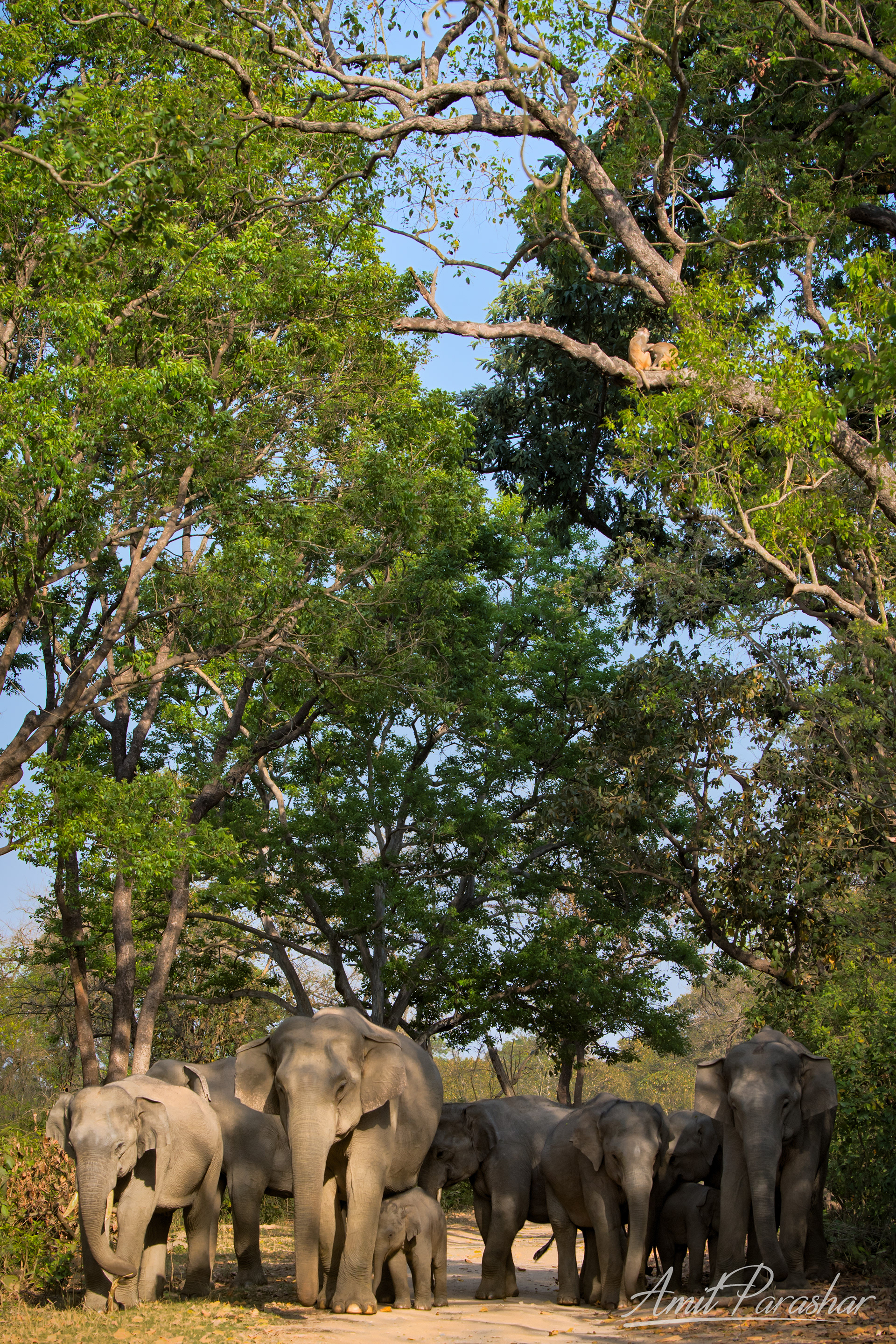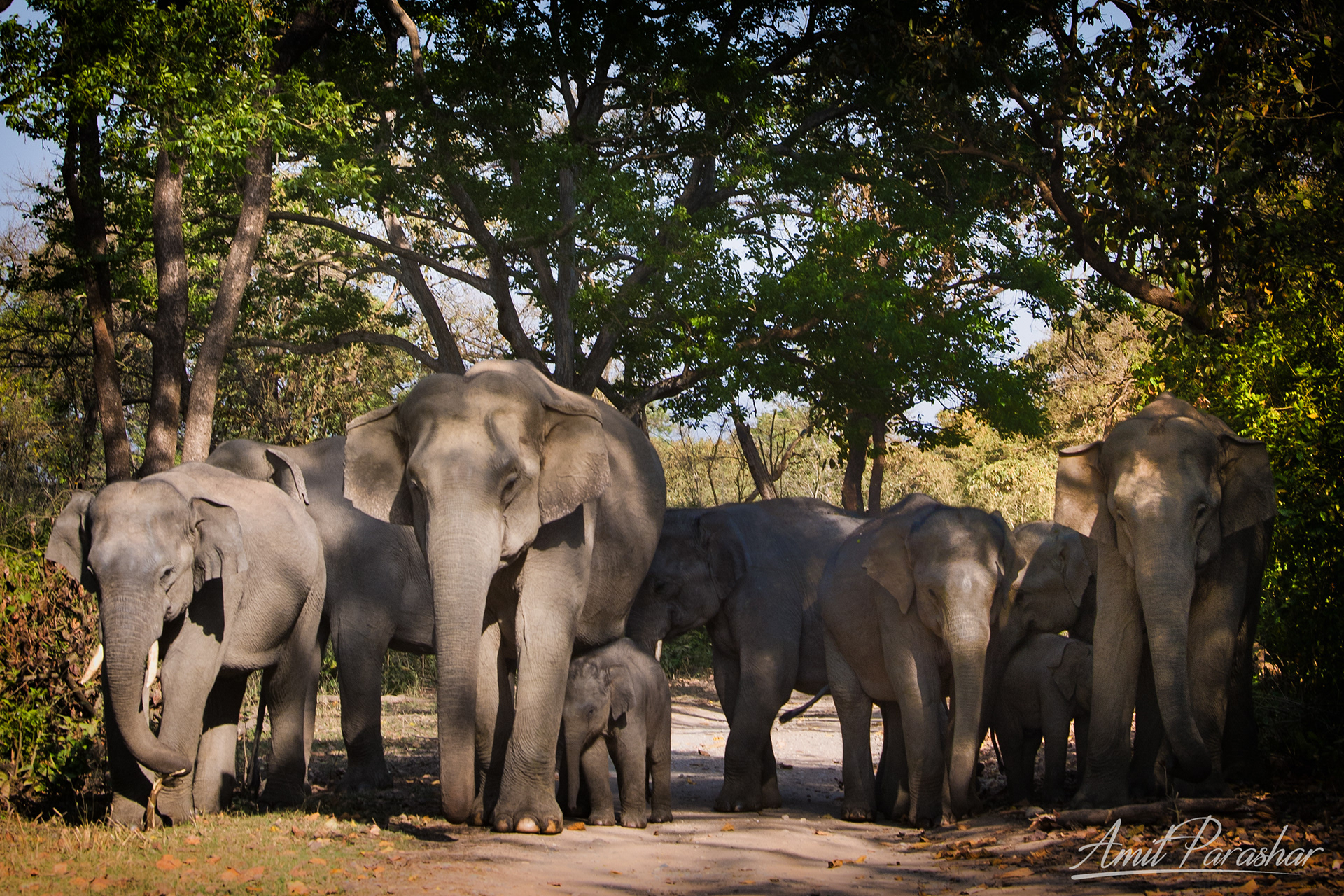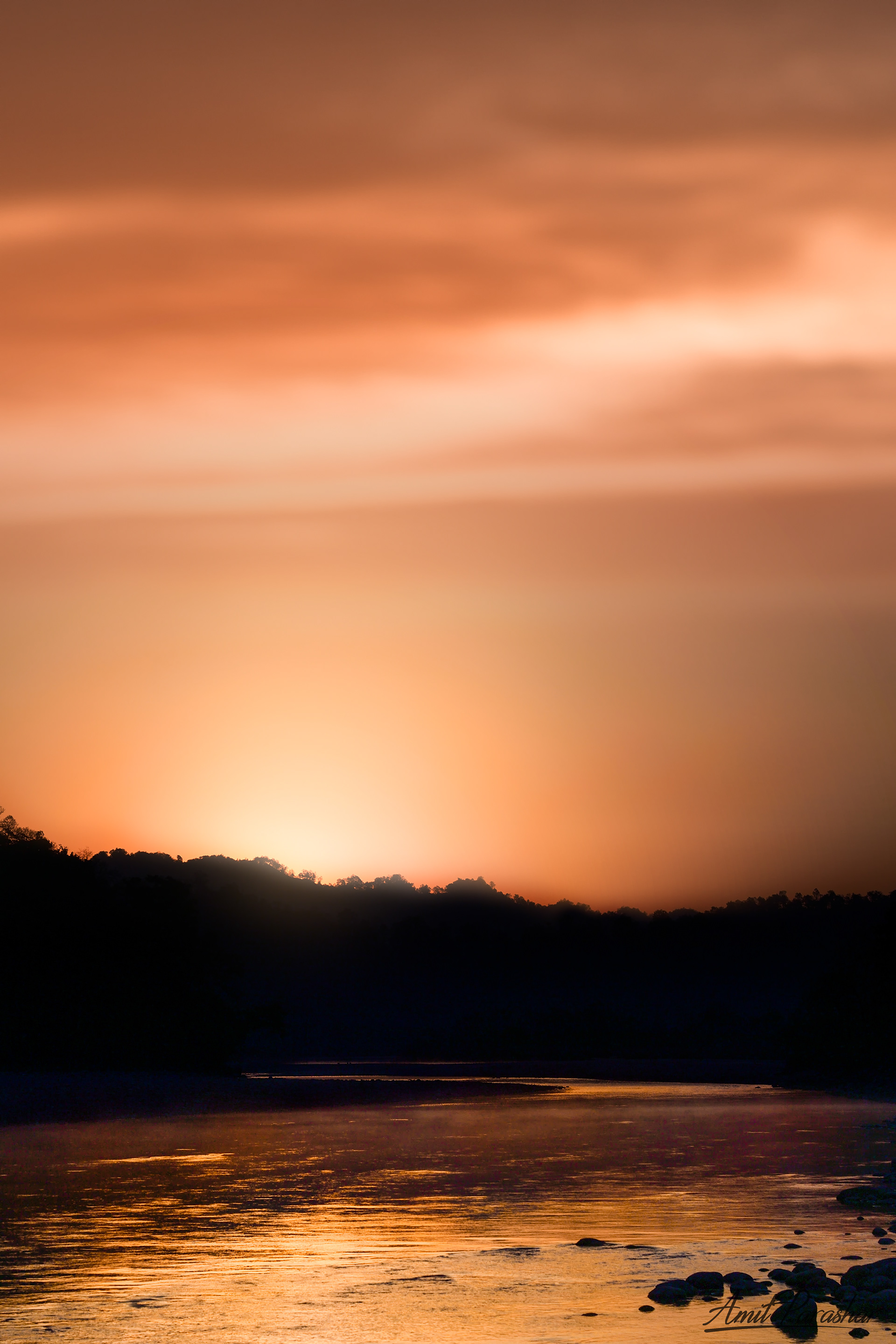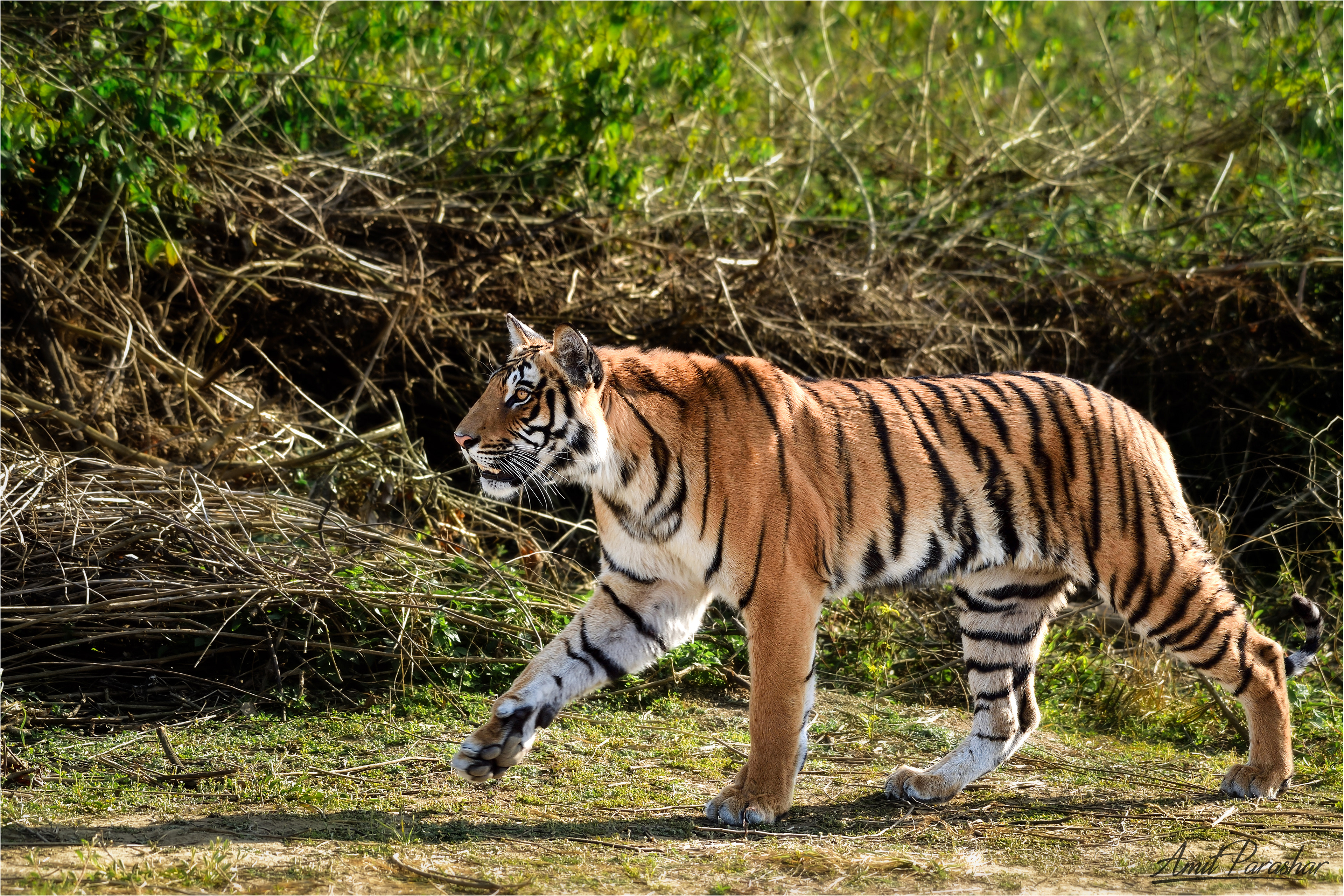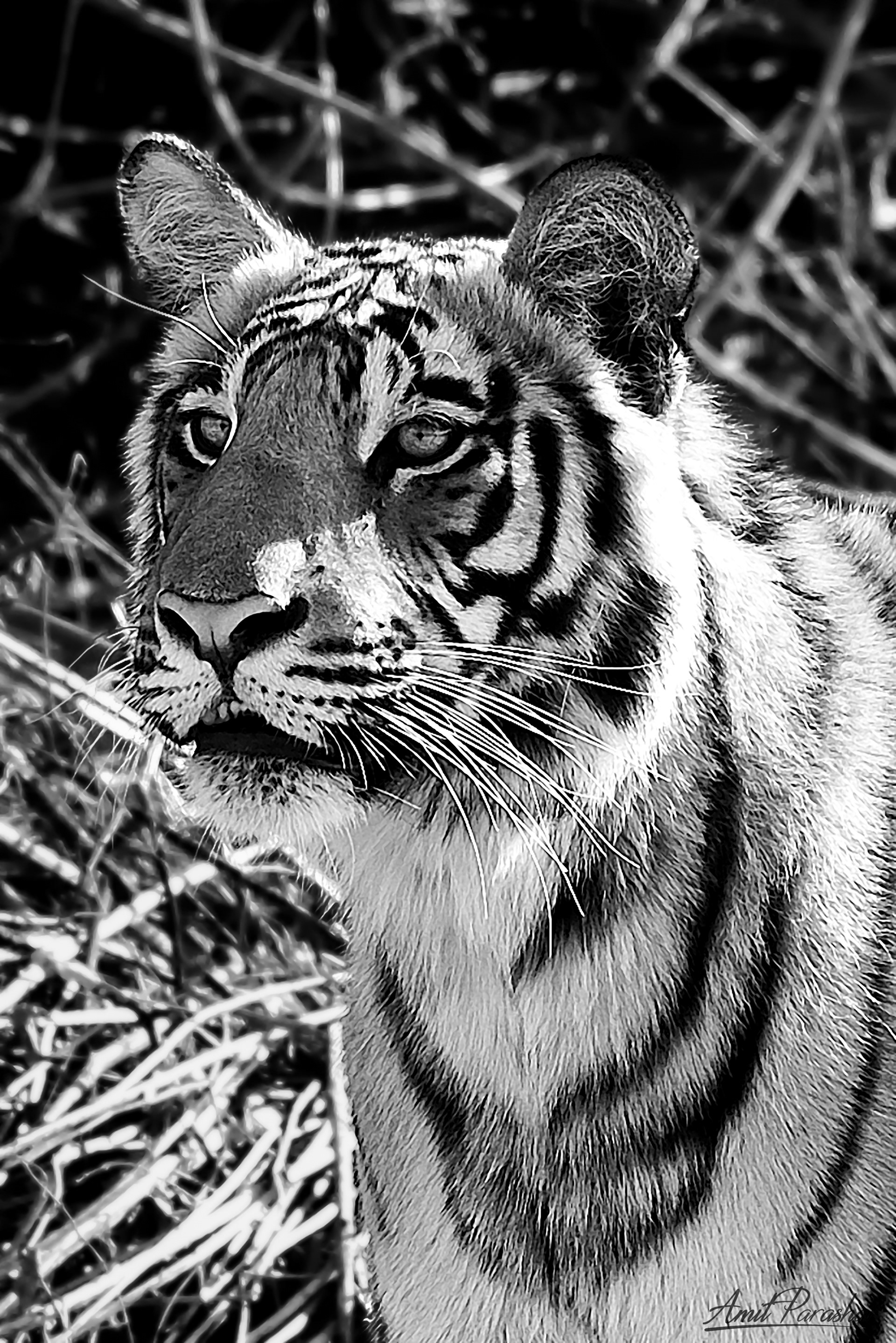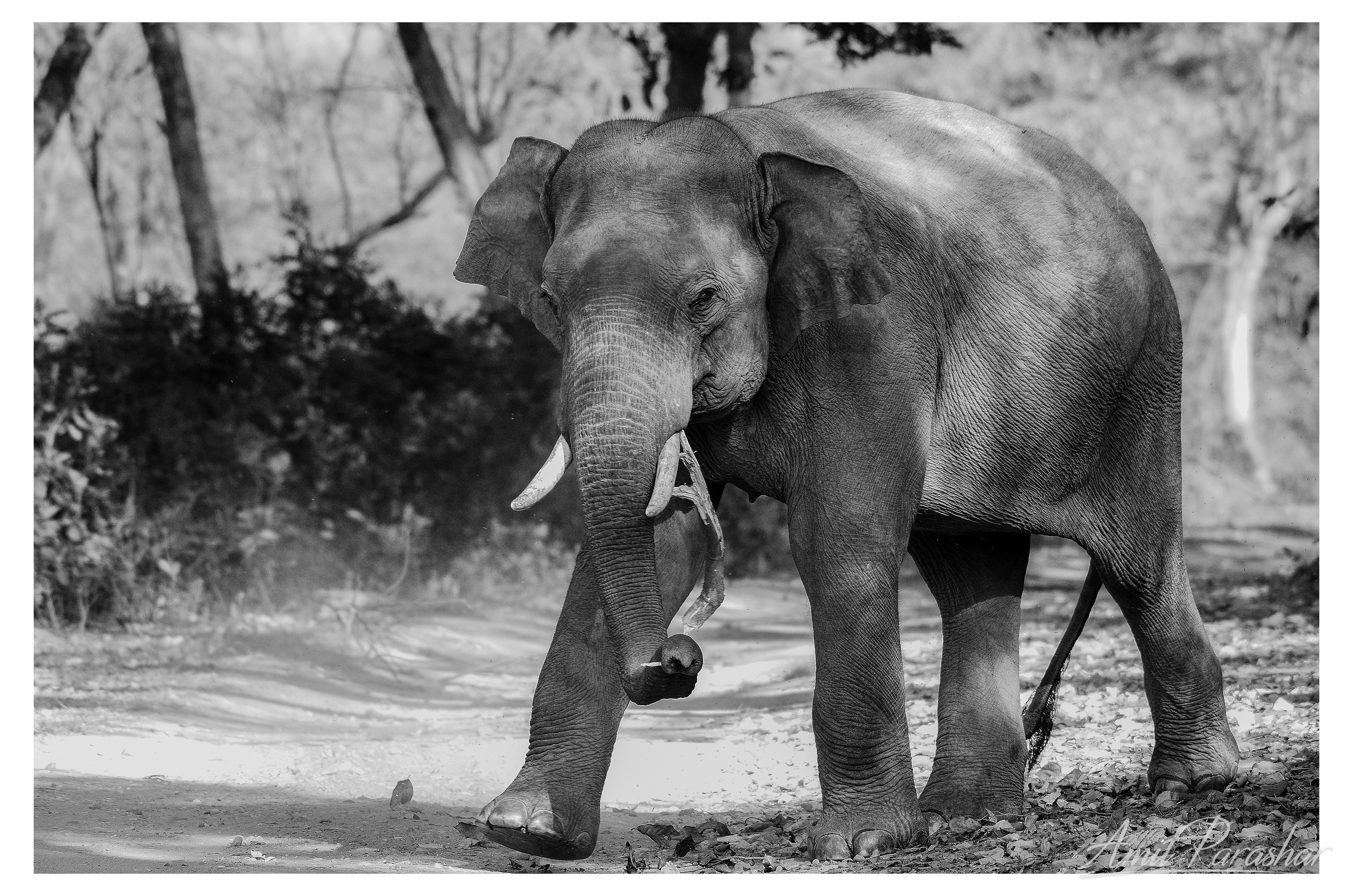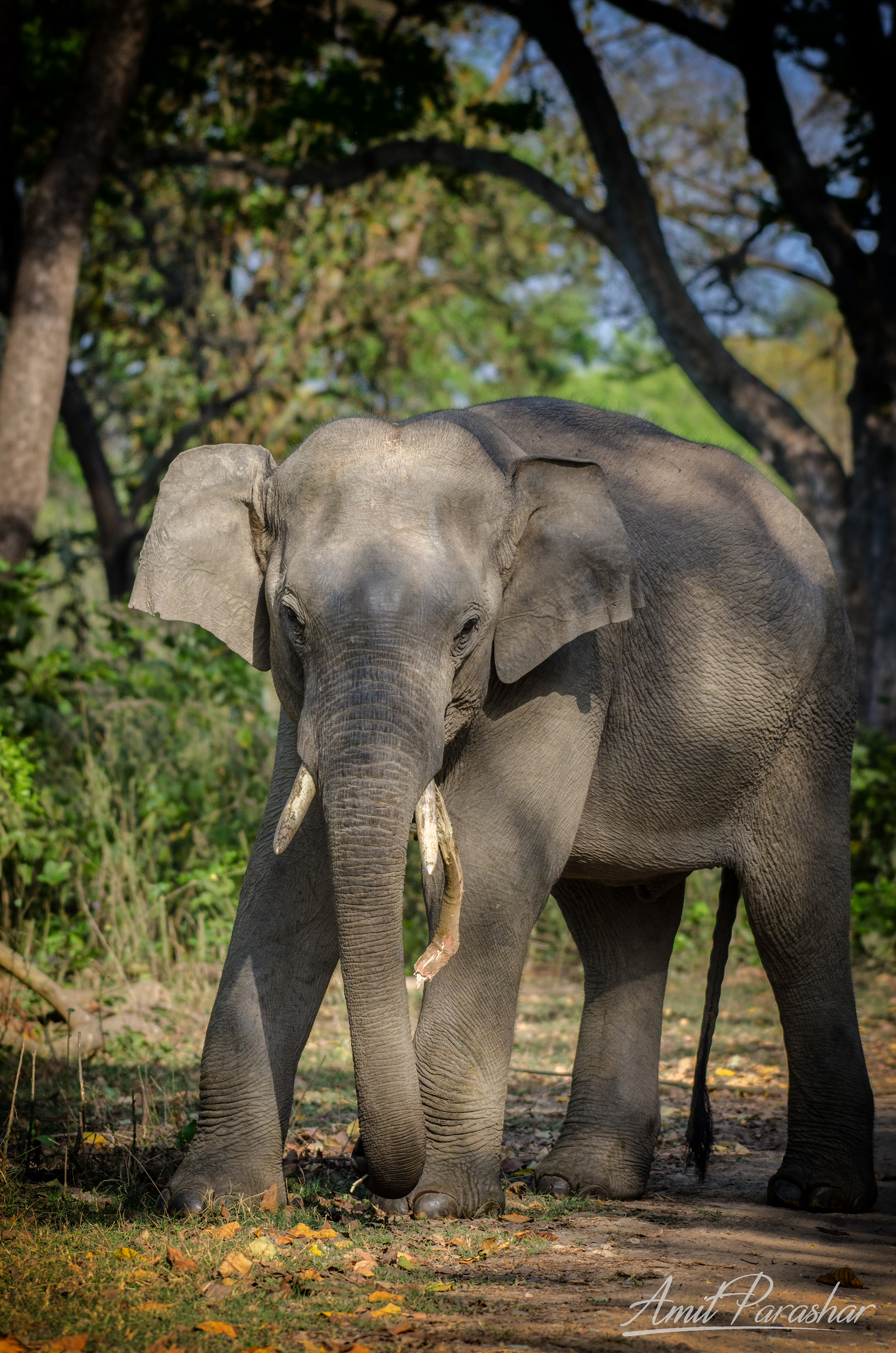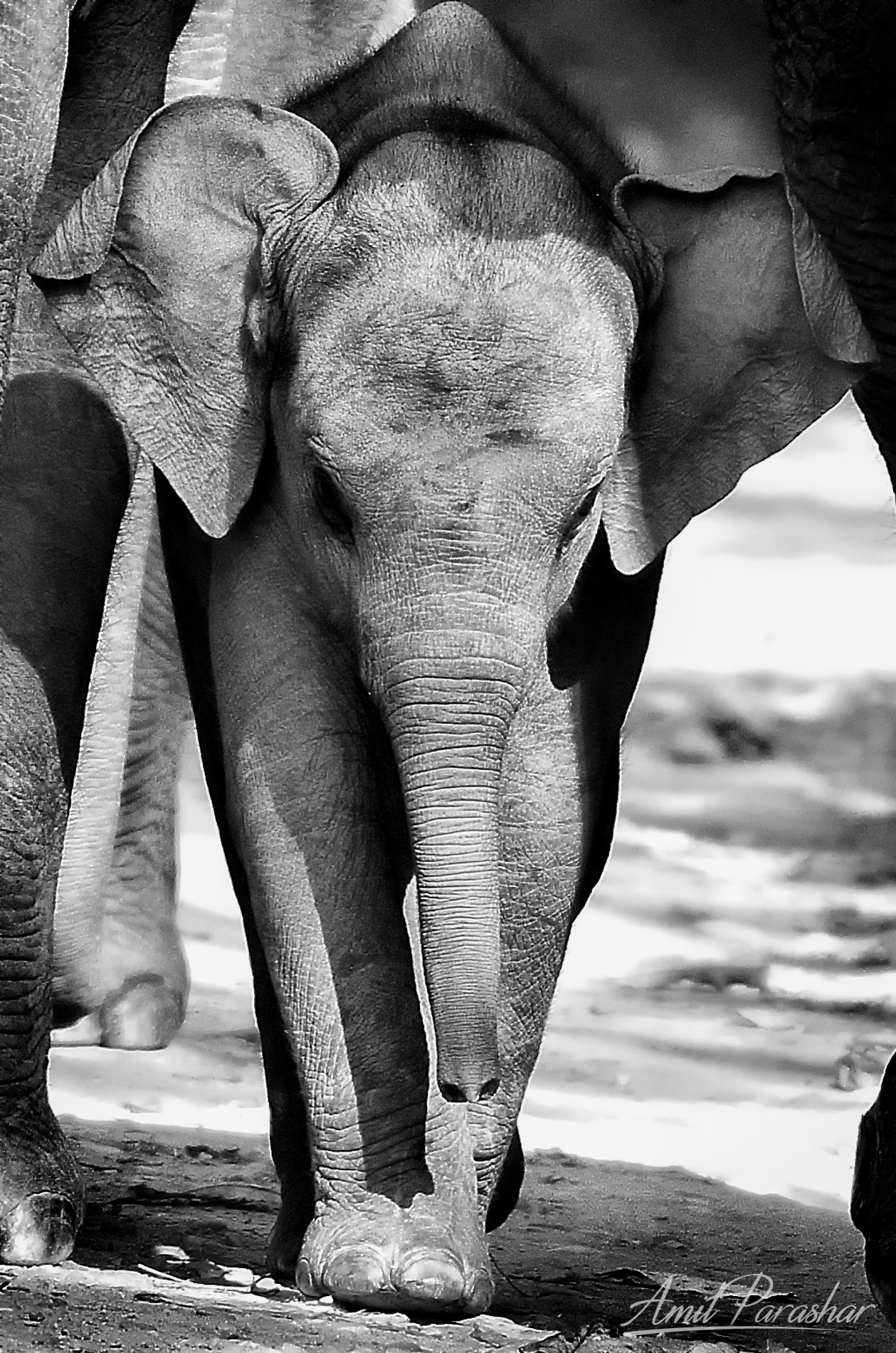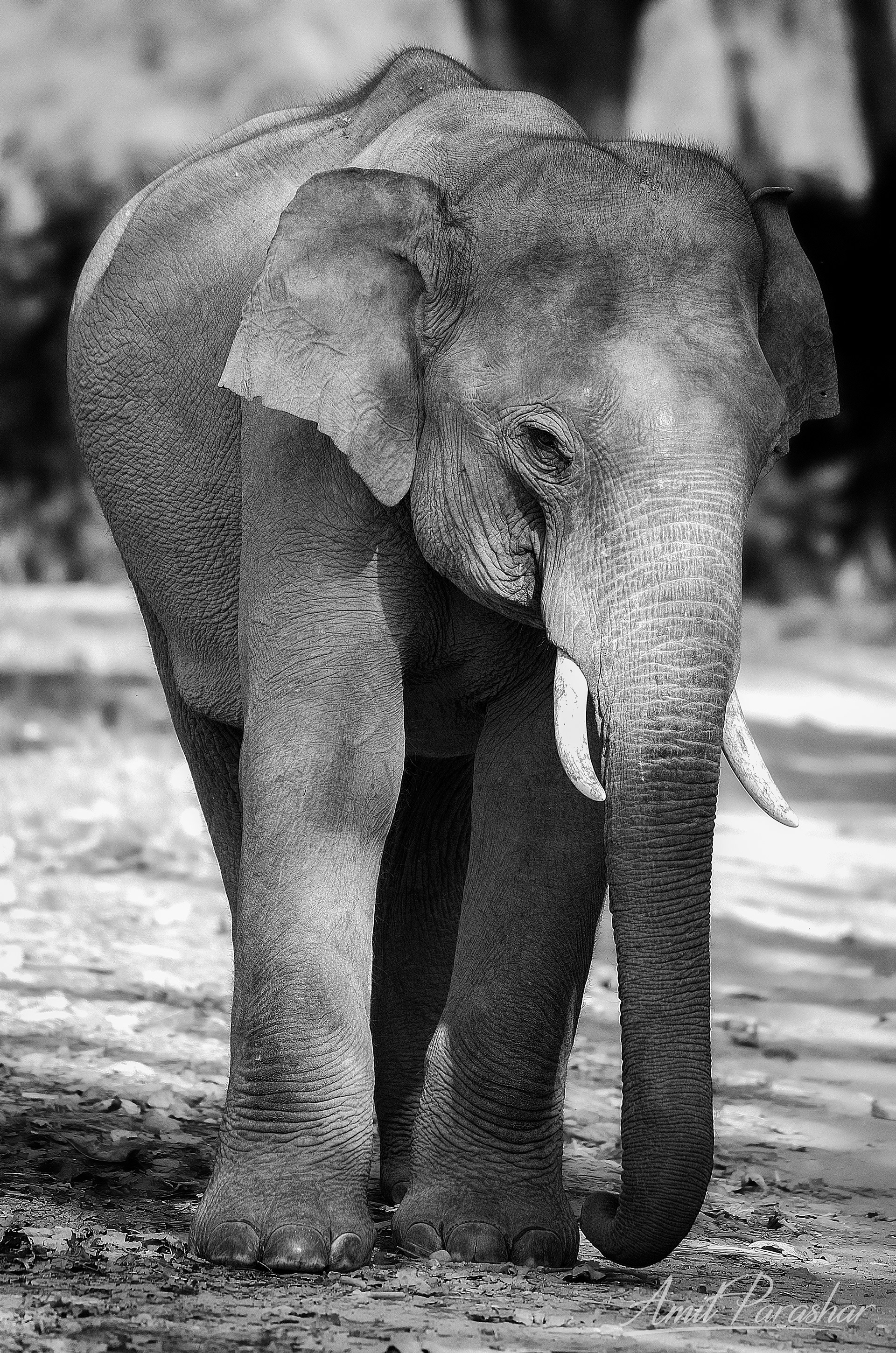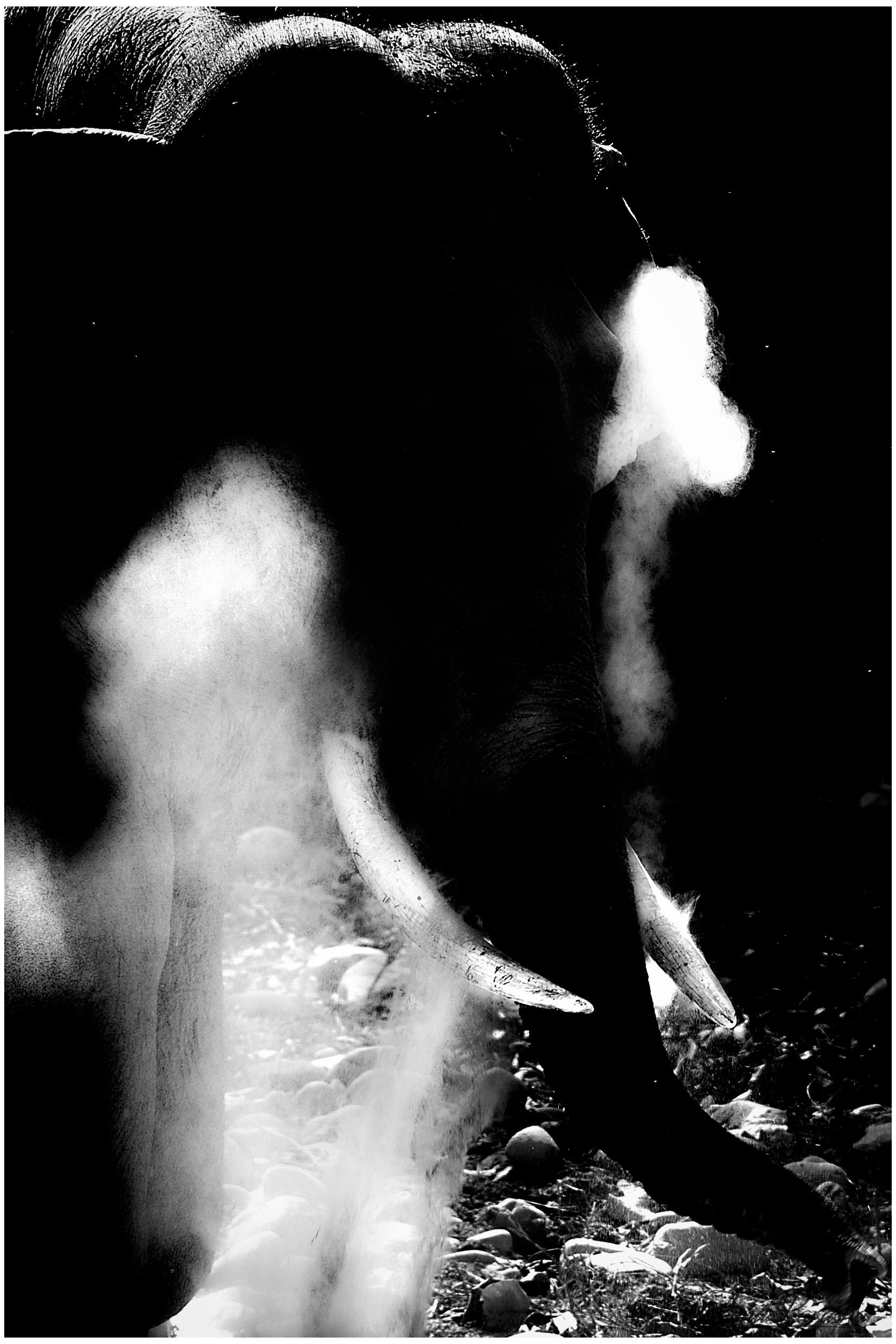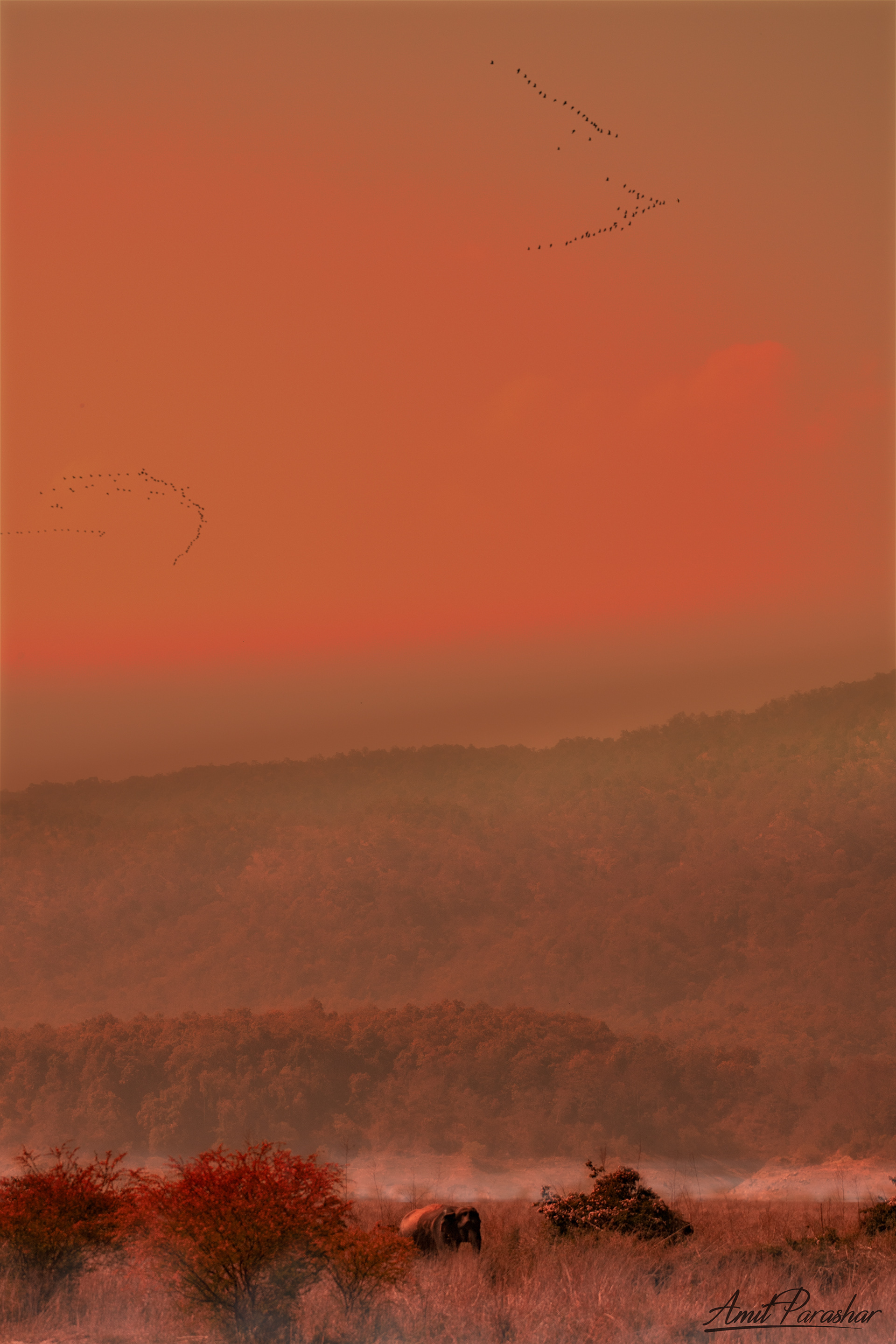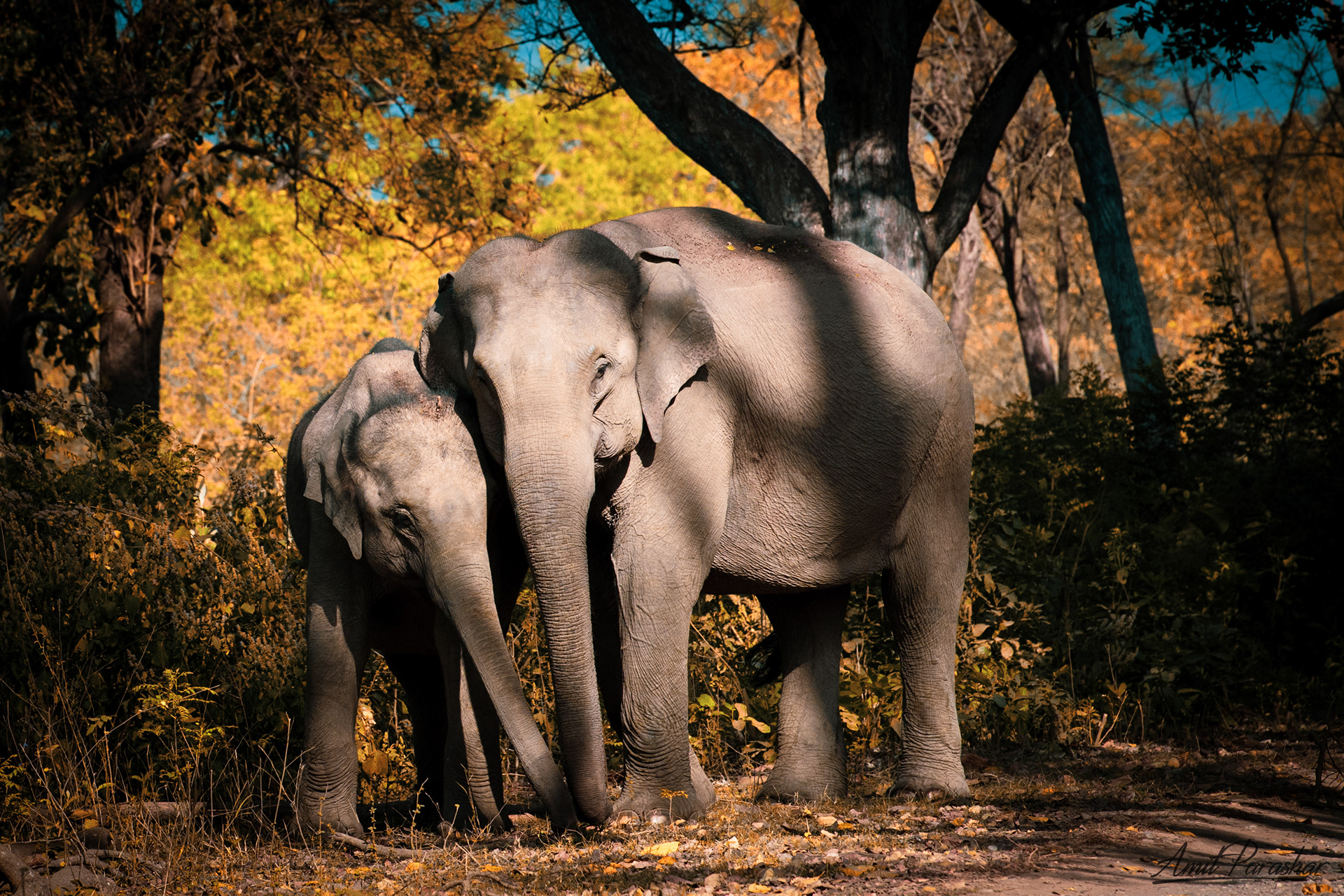 Nikon D5, Nikon D7000, Nikon 70-200 f2.8 FL ED, Nikon 200-500, Manfrotto 393 Gimble mounted on Toehold bean bag, Samsung J5 prime
Safari and Accommodation Provider: Mr. Nizam, +91-8859565786
Travel Cost : INR 12000/person